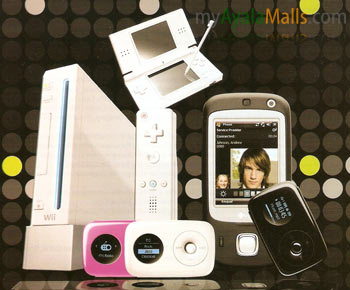 Get a chance to win amazing gadget packages with Touch phones and DVD players! Make a minimum purchase of P1,500 from participating Park Square 1 Gadget Merchants and get a chance to win the Gadget Bonanza!

Novermber 2 to 30, 2009

Mechanics:

1. For every P1, 500.00 worth of receipts (single or accumulated) from any gadget or electronic outlets in Park Square 1 from November 2 to November 30, 2009 entitles the shopper to one (1) raffle coupon.

Gadget or electronics outlets in Park Square 1 include:
5th Avenue, Accent Micro, ADI ASIANIC, ADI Telecom, Ambassador Audio Video, Avid Sony, Best Mobile, Blade, CD-R King, Coleman, Compex, Complink, Data Blitz, Digiprint, Digital Walker, E Hub Computer, Electroworld, Frame Plus, Gamestop, Mobile 1, Mobile Experts, Octagon, PC Corner, Premium Logic, Silicon Valley, Spectra Audio, MLH Computer Center, Techead Systems lnc., True Value, Villman, Wellcom Laptop zone, Yamaha, Games and Gadgets, Globe Business Center.

2. Shoppers can exchange their receipt/s for the raffle coupon at the booth located at Ground Floor of Park Square 1 and Glorietta 4. Shopper must fill out the raffle coupon with their complete name, address, contact number/s (office, house number or mobile phone number), store of purchase, age and signature before dropping them in drop boxes provided for at the concierge.

3. A maximum of ten(l 0) raffle coupons shall be given per shopper for single/accumulated receipts purchases amounting to P1 5,000 and above.

4. Draw date for all prizes shall be held on December 1, 2009 with the supervision of a DTl Representative at 5th Floor, Glorietta 4, Ayala Center Makati, Makati City.

5. Last day of submission of entries is on the closing hours of the mall on November 30, 2009.

6. Prizes at stake are:

Grand Prize:
Complete Game and Sound System: One (1) unit Thomson Home Theater Compo CS600, One (1) unit Teac DVD Player DV3180, One (1) 1 Ninetendo Wii unit

Secondary Prizes:
One (1) winner of one (1) DS Lite Unit and one (1) CREATIVE MP3 Player
One (1) winner of one (1) CREATIVE MP3 Player and one (1) HTC Dual
One (1) winner of one (1) Nokia 1208 Mobile Phone and one (1) RCA MP3 Player
One (1) winner of one (1) Nokia 1208 Mobile Phone and one (1) CREATIVE MP3 Player

Consolation Prizes:
One (1) winner of Nokia 1208 Mobile Phone + 3 iHome Discount Coupons each
Nine (9) winners of 1 Television Omnimounts + 3 iHome Discount Coupons each

7. In the event that a winner is drawn twice, the winner can get the prize with a higher value.

8. Prizes are transferable but not convertible to cash.

9. Winner shall be notified via registered mail and telephone call, and their names shall
be posted at the Ayala Malls Website and Events Box of the Ayala Malls Entertainment Page in Philippine Daily Inquirer and the Philippine Star.

10. Winners may claim their prizes at the 5th Floor, Glorietta 4, Ayala Center, Makati City

11. In claiming their prizes, winner/s must present the Notification Letter from Ayala Malls, claim stub and valid identification card with photo.

12. Prizes should be claimed within sixty (60) days from notification or it will be forfeited in favor of Ayala Malls with prior approval of DTI.

13. Ayala Malls reserves the right to validate the receipts. Receipts that are defaced, crumpled, tampered or receipts lesser than 3/4% its actual size will not be honored.

14. All employees of Ayala Malls, their merchants, maintenance, security agencies, employees of the merchants, its advertising and promotional agencies and their relatives up to the second degree of affinity or consanguinity are disqualified from joining this promo.

15. Promo period is from November 2 to November 30 2009.