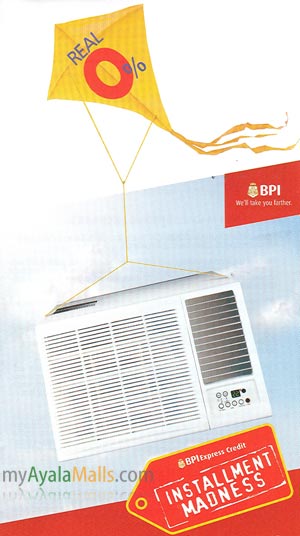 Installment Madness!
Expect more of the coolest 0% deals this summer.
Get the latest appliances and gadgets at the lightest rates !
Visit the Glorietta Activity Center
from March 3 to 21.
Get The Latest at the Lightest Rates in these Participants Stores until April 15, 2010:

Appliances: Abenson, Ambassador Home Appliance, Anson's, Automatic Centre, Robinsons Appliance, SM Appliance, Sogo, Waltermart, Western Marketing

Computers & Gadgets: Accent Micro, Adi Asianic, Ambassador Home Electronics, Apple Center, AV Surfer, BSD International, Camerahaus, Compex, Complink, Electroworld, E-phone, Gigahertz, Hello Telecom, Mega Cellular, Mobilel, Octagon, Premium Logic, PC Express, Silicon Valley, The Computer Authority, Villman

Furniture: Ambiance One, Blims, Home Options, Home Plus, Metro Living

Jewelry & Watches: Casio, Chronos, Fossil, G-Factory, L. Timestudio, Miladay Jewels, Philip Stein,Time Central,Time Depot,Time Gear,Timex,Skagen MOA Kiosk, Swatch, Swiss Gear, Washington Jewelry, Watch Republic, Wristpod
Others: Bratpack, Columbia, Columbia Sportswear, DC, Right 360 Luggage Store, GA Yupangco, Gift Gate, Handyman, Kickers, Manila Imperial Motor Sales, Res.Toe.Run, Robinsons Department Store, R.O.X., Sanuk, Sledgers, Sportshouse, The North Face, Tough Jeans Smith, Toys "R" Us, The Travel Club, Travel Republic, True Value, TUMI, Victorinox

Installment Madness Promo Mechanics
1. Promo period is from March 3-21, 2010 (Glorietta Activity Center Exhibit) and March 3 to April 15, 2010 (Store Level outlets).
2. The promo is open exclusively to all existing BPI Express Credit cardholders with Special Installment Plan (S.I.P.) credit limit (Classic,Blue MasterCard,Gold MasterCard, Petron-BPI MasterCard, BPI Edge MasterCard and BPI-WorldPerks MasterCard) and of good credit standing.
3. BPI Express Credit offers 0% interest and reduced rates on all items and selected terms for a minimum amount of P 3,000.
4. To avail of the products and services, cardholder must personally present his BPI Express Credit card to the participating dealer of his choice and sign the BPI Express Credit Installment Plan Contract (IPC) / charge slip after approval is obtained from BPI Express Credit.
5. The terms and conditions governing the issuance of the BPI Express Credit and MasterCard and the reminders and other provisions contained in the card carrier, statement of account, charge slips and other documents or instruments, which are made an integral part hereof by reference, shall likewise be resorted to in instances where they are applicable in this offer.
6. If a cardholder decides to pre-terminate his Special Installment Plan (S.I.P.) transaction prior to the first billing, BPI Express Credit will charge a pre-termination fee of P 550 plus an additional 2% interest on the principal amount. If pre-termination is done after the first billing, monthly payment shall first be applied to interest then to the principal using the diminishing balance method a pre-termination fee of P 550.

ChowkingReal Thrills Promo Mechanics
1. To redeem the free Chowking meals, cardholders must submit for verification the original charge slip or transaction receipt (minimum single transaction of P1,500, P3,000 or P6,000) and present the BPI card used for the transaction to any authorized Chowking personnel. Transaction date on the charge slip or transaction receipt should be within the promo period.
2. Cardholders must print name at the back of the corresponding charge slip or transaction receipt and submit to the authorized Chowking personnel before release of the free food item.
3. Cardholders can redeem the featured Chowking meals at any Chowking outlet nationwide. The redemption is valid for dine-in and take-out only. Redemption is not allowed for drive-thru orders.
4. Only one (1) free food item can be redeemed per charge slip or transaction slip. A customer is allowed up to three (3) redemptions per day per store only. Get these free with a minimum spend of:
• P1,500 - Choice of Chorizo Chao Fan or Spicy Pork Mushroom Rice
• P3,000 - Choice of Breaded Fish Lauriat, Breaded Pork Lauriat, Salo Dimsum Platter
• P6,000 - Chowking Sulit Salo Set (good for 3) without drinks
5. The free Chowking meals cannot be exchanged for cash, other products, or discounts.
6. Redemption period is until June 15, 2010.