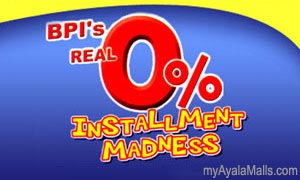 Expect more: The latest at the lightest rates!

At Real 0% interest and triple credit limit, you can upgrade to the latest computers and gadgets without straining your budget.
Available brands:
Acer
ADI Asianic
Apple
Asus
Canon
Creative
Dell
Epson
Fujitsu
HP
Kodak
LG
Lenovo
Motorola
MSI
Neo
Nokia
Olympus
O2
Philips
Samsung
Sharp
Sony
Toshiba
Zen
and many more!
Participating dealers:
Ambassasor
Automatic Centre
Accent Micro
Apple Center
Camerahaus
Complink
Electroworld
Octagon
PC Express
Premium Logic
Silicon Valley
The Computer Authority
Villman
Visit the Glorietta Activity Center from June 11 to 28, 2009.